Disclaimer: This copy of Vintage Life Magazine was provided free of charge for review purposes. All opinions are my own, and you can read my full disclosure policy here.
Vintage Life Magazine is one of the best loved vintage publications available, covering topics including fashion and beauty, culture, home décor and lifestyle. The magazine explores everything that vintage lovers enjoy about the 1920s-70s. The lovely people at Vintage Life were kind enough to send me a copy of April's issue to review, so I sat down with some tea and scones to have a read.
April's issue kicks off with an article about Coco Chanel and her career in the fashion industry - a really interesting insight into how Chanel got started as the global brand we recognise today. Other articles include a piece on how to wear wellies (which inspired me to wear them in my
most recent outfit post
), a discussion on the 21st century woman's figure, a 1980s wedding lookbook, and a look at the interior of the gorgeous Highclere Castle, to name just a few. I really like the variety of articles in Vintage Life as I find I always learn something new and it keeps me interested all the way through. The features are organised into sections: "My Style", "My Look", "My Health", "My Life", "My Home" and "My Food".
The "My Look" section in the April issue includes answers to some beauty questions from readers as well as a tutorial on how to put on false eyelashes and a tutorial for a beautiful 1940s updo. I really enjoy the hair tutorials in particular that are included in Vintage Life as I'm not the most talented at styling my hair, and I find the ideas useful. I hope to try and recreate the hairstyle from this issue soon.
The issue also features some great tips on how to create a 70s look (bang on trend) and I surprised myself by really liking the looks even though I normally think that I dislike a lot of 70s fashion. The photos are so beautiful though, that it's hard not to feel inspired. The model's hair and makeup is lovely.
The only article from this particular issue that I wasn't too sure about was on the subject of retirement. While I'm sure the magazine attracts a wide readership including all ages, the article didn't seem to me as though it fitted in as well with the concept of the magazine as the rest of the content. That said, the rest of the magazine feels really well put together, so perhaps I have missed the point. I did enjoy all the other articles in the magazine, and I even like looking at the adverts in Vintage Life as they're always for things which feel relevant to my personal style and lifestyle.
Priced at £4.25 per issue, Vintage Life is a bit more expensive than I would normally pay for a magazine, but it's comparable with other publications of this length and quality. You really do get a lot of magazine for your money, with lengthy articles and plenty of how-to's and recipes. I usually find that it takes me a few days to thoroughly read a copy of Vintage Life as I like to dip in and read a couple of articles at a time - whereas I can burn through a lot of fashion or celebrity magazines in one sitting. If you're interested in vintage - whether your interest is in clothing, homeware, music, or any other aspect - Vintage Life is sure to have something to interest you. As of the 50th issue, they magazine also has a swanky new look and a new
website
which I really like (although I had no objections to the previous look!).
Vintage Life Magazine has a worldwide readership and you can find stockists in the UK and Ireland, USA, and Australia on the
website
or you can
order online
to anywhere in the world.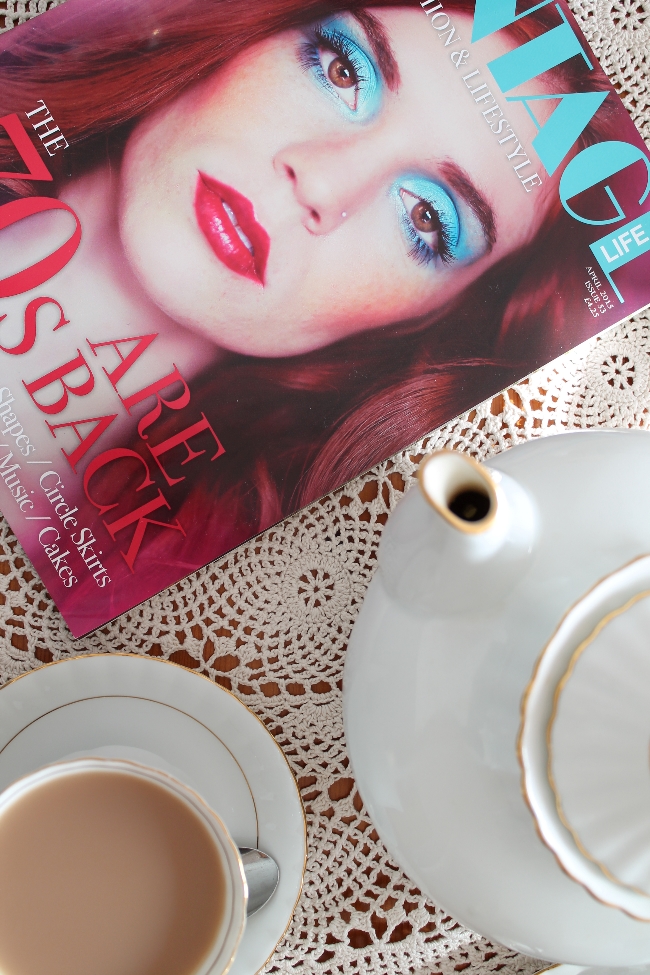 Thanks again to the Vintage Life team for sending me the magazine!