Shop My Stuff
I still have some things for sale both vintage and pre-loved; take a look below and see if there's anything you'd like. I'm mainly trying to clear out some wardrobe space so I'm willing to negotiate on prices. Please feel free to get in touch with any offers via my usual email address, or by leaving a comment on this post.
All items have been well looked after and come from a smoke-free, pet-free home. For things not listed on Etsy, email me at helenmaegreen@gmail.com for a Paypal invoice. I post internationally. Also, for the things listed on Etsy, there are more photos included if you click through to the listing.
All items are covered by Distance Selling Regulations. All information can be found in my Etsy shop policies
here
. Please check the shop policies before purchasing. In accordance with these regulations, sales to EU buyers can be cancelled from point of sale up to 7 working days following receipt of the item.
Items are posted by Royal Mail 1st class unless requested otherwise.
Handmade 1940s style skull cap
This handmade 1940s style skull cap is perfect for re-enactment or would make a great addition to any 40s wardrobe. As new.

****SOLD****
H&R London blue polka dot wiggle dress
****SOLD****
Size on the label is UK 8.
Measurements:
Bust: 15" plus fullness
Waist: 13.5"
Hips: 15.5"
£6 plus postage
Click here for more pictures.
1980s Velour Evening Jacket
1980s black velour evening jacket.
The brand is Your 6th Sense (C&A).
Fits a UK size 16 but also works for smaller sizes with a belt around the waist which creates a peplum effect around the bottom. Features a beautiful swirl design to the fabric and a scalloped neckline.
Across the shoulders: 16"
SALE £10 plus postage, find it on Etsy here.
**SOLD**
1980s Check Pattern Summer Dress
A sweet 1980s summer dress with a light blue and orange check pattern.
Comes with a matching belt as shown in the second photo on Etsy (link below).
The skirt is lined with a light grey material which I think has been added by a previous owner.
All the original tags have been removed by a previous owner.
Measurements (taken flat):
Bust: 18"
Waist: 15"
Hips: Free
Length from nape of neck: 42.5"
Excellent condition. The only flaw I could find is a tiny pink stain on the button band above the lowest button (shown in the last picture), but this is completely hidden when the dress is buttoned up.
SALE £8.00 plus postage, find it on Etsy here.
**SOLD**
1940s Green Embellished Blouse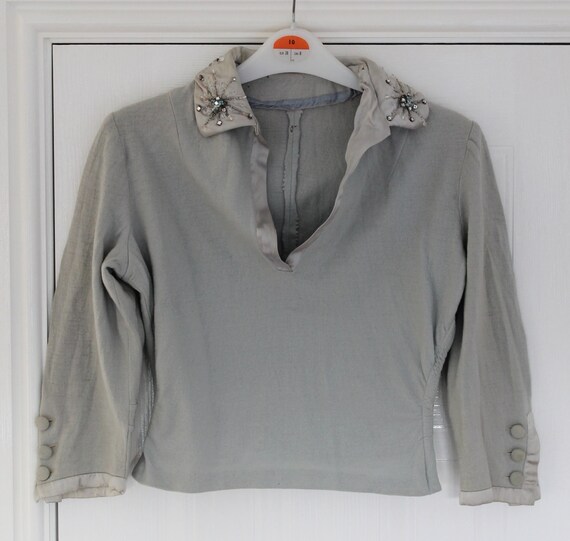 Brushed cotton 1940s blouse/sweater with a beautiful bead embellished satin collar. Roughly UK size 8.
This item seems to have been hand-made and does not contain any kind of labels or tags.
This is too short for me so would be best suited either to a petite lady, or it could be worn as a cropped style.
Good, with some light wear as to be expected for an item of this age. There are a couple of small holes to the outside of the item which are not obvious when the item is worn (shown in photo 4 on Etsy). There are a few small holes to the inside of the item which are not visible at all when the item is worn. There are one or two beads missing from the collar.
£15 plus postage
****SOLD****
1950s Black Leather Kelly-style Handbag
****SOLD****
Beautiful black leather 1950s handbag with a suede lining.
There is a label on the inside which reads 'All Leather - Made in England'. There are two pockets on the inside, one which closes with a zip and another which is open at the top, perfect for cards or bank notes.
The bag is in excellent condition with only very minimal wear. There are a handful of very small pen marks on the inside of the bag, but nothing very noticeable. I have not tried to remove these marks.
This would make a lovely addition to any classic look.

£25 plus postage, find it on Etsy here.
**SOLD**
1980s Black Evening Blouse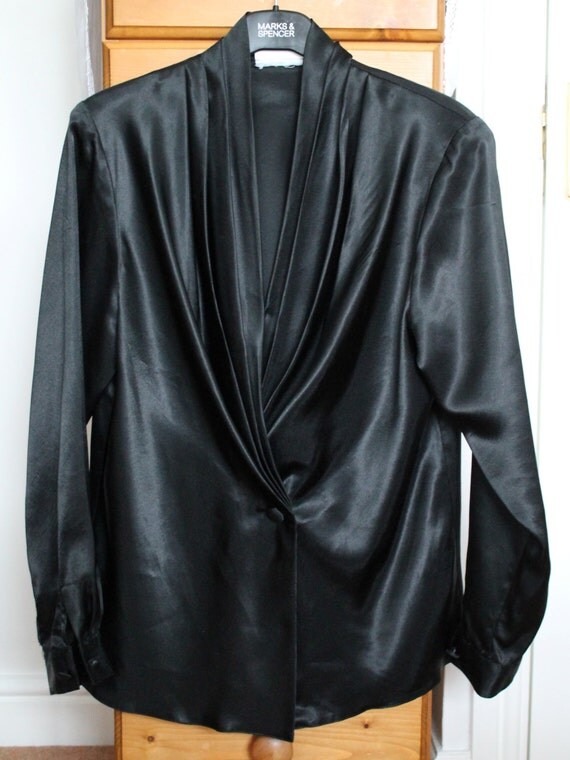 1980s black evening blouse featuring a draped/pleated front.
Marked UK size 10.
Brand is 'Features'.
100% polyester.
Measurements:
Bust: 18 3/4"
Waist: 19"
Hips 20 1/2"
Probably best suited to slightly smaller measurements so as to get the full draped effect.
Condition: Excellent. There is some very light wear to the cuffs, but otherwise it is in near perfect condition.
£16.50 plus postage, find it on Etsy here.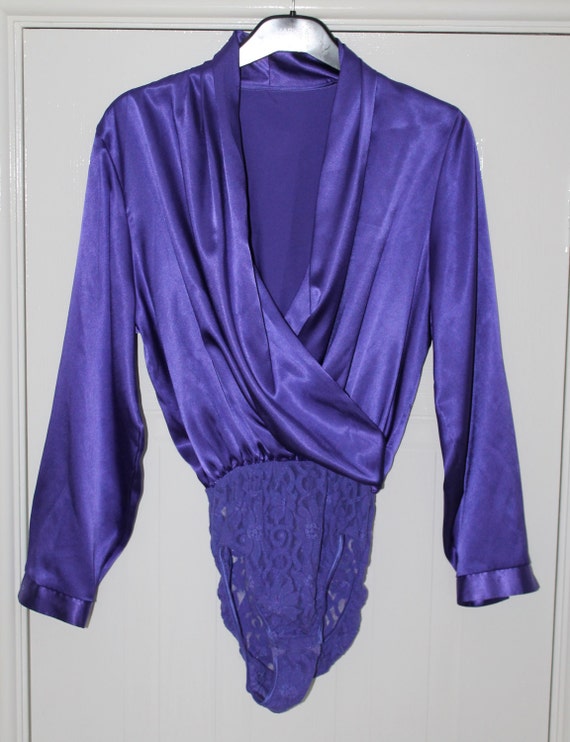 1980s purple evening blouse featuring a lovely draped front and a lacy bodysuit-style bottom with snaps to keep the blouse neatly tucked into your skirt or trousers.
Brand: St Michael from Marks and Spencer
Waist: Difficult to measure due to draped front of the blouse, approximately 26-17"
Hips: Measurement taken from join between blouse top and bodysuit bottom; this section is elasticated. 8 1/2" unstretched, 16" stretched.
Condition: Excellent. This blouse even still has its original spare button.
£16.50 plus postage, find it on Etsy here.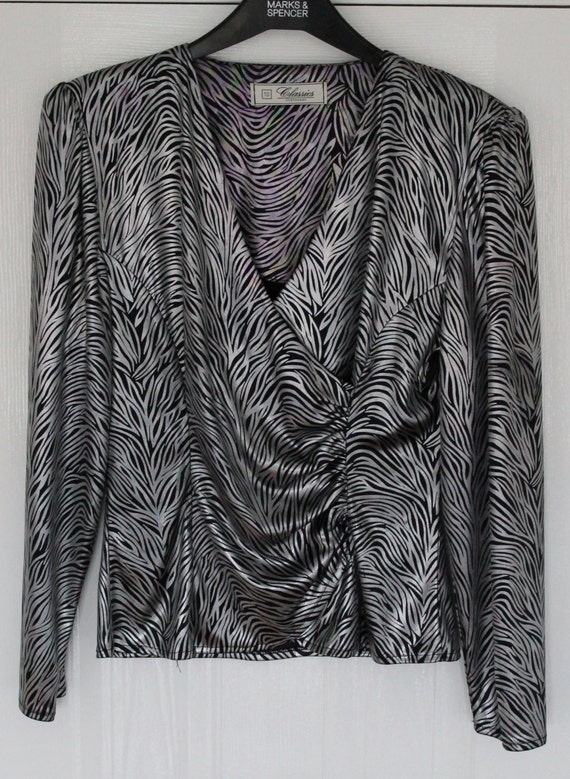 Beautiful and unusual 1980s evening blouse in an iridescent silver and black zebra print. The print shows pink and green in places as it catches the light. Featuring a low-cut draped and gathered neck line. This blouse has shoulder pads but these could easily be removed if desired.
'Classics Debenhams' label. 100% polyester.
B 34" but would probably accommodate a slightly larger bust due to draped style and stretchy material
Very good. The print is slightly faded throughout (you can see from the inside of the item that the pink and green colouration was once much stronger) but this does not detract too much from the overall effect.
£17.00 plus postage, find it on Etsy here.
Hand Crocheted Hair Bows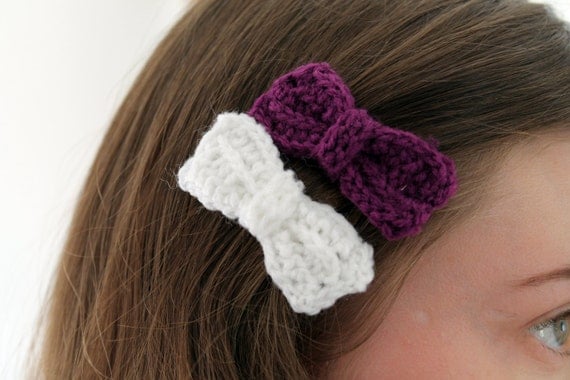 Two hand crocheted hair bows in purple and white. These sweet bows are perfect for decorating your ponytail, adorning your updo or adding some interest to something simple and casual.
The bows are affixed to alligator clips and can be worn separately or together.
SALE £2.00 plus postage, find on Etsy here.